Radio Monitoring and Localization
Portable analyzers for detecting, locating and classifying RF signals and interference from Narda
Ideal for tracing accidental, illegal, or deliberate interference or potentially dangerous signal sources. Remotely controllable analyzers for spectrum monitoring and frequency management.
Radio Monitoring and Localization
NARDA IDA & IDA 2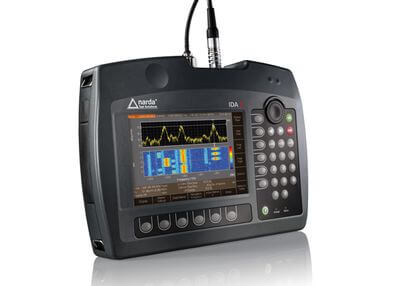 Light, portable signal analyzer for detecting, analyzing and localizing RF signals and interference
9 kHz to 6 GHz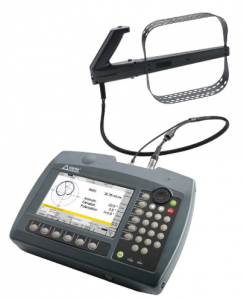 Interference and Direction Analyzer Narda IDA 2 is a highly sensitive signal analyzer.
Light and ergonomic
Intuitive operating system
Bright display readable in sunlight
Comprehensive display facilities
Excellent RF properties
Specifications
Frequency range9 kHz to 6 GHz
Operating time on batteries3 hours (nominal), battery pack is hot swappable
Dimensions 213 mm x 297 mm x 77 mm / 8.4" x 11.7" x 3.0"
Weight (basic unit including battery) 2.8 kg / 6.2 lbs
Product description
DA 2 combines excellent RF signal selectivity with fast monitor capabilities and integrated tools such as a double compass and map display for determining the geographical location of RF sources.
The main tasks of the IDA 2 are the detection, analysis and localization of RF signals. Outstanding features of this portable instrument are functions such as Horizontal Scan with automatic azimuth determination and smartDF® for automatic calculation of the emitter position.
The robust, ergonomic design is protected against mechanical stress, weather effects and high power RF irradiation.
Measurements made with the IDA 2 quickly yield results thanks to its practically oriented operating modes:
Spectrum
Direction Finding
Level Meter
Multi-Channel Power
Time Domain (Scope)
I/Q Analyzer (I/Q display, Magnitude display, high resolution spectrograms and persistence spectrums)
Applications
The risk of RF interference due to unintentional emissions and interactions has greatly increased with the growth in the use of wireless technologies. IDA 2 is designed for rapid detection and localization of all types of RF emissions. Some example applications:
Eliminating faults in mobile telecommunications equipment (2G/3G/4G)
Tracing interference caused by industrial plant Securing communications at large events
Locating interference transmitters / jammers (e.g. for TETRA, TETRAPOL, POLYCOM, etc.)
Monitoring radio frequencies and frequency bands Detecting signals in security operations
Localizing bug transmitters (TSCM)
Signal monitoring for border protection
Localizing SOS beacons (SAR)
Brochure: Narda IDA
 Datasheet: Narda IDA
Brochure: Narda IDA 2
 Datasheet: Narda IDA 2
Radio Monitoring and Localization
NARDA SignalShark
Signal Analyzer for Detection, Analysis, Classification and Localization of RF Signals between 9 kHz and 8 GHz. Applicable for mobile and stationary use.Extremely high Sweep Rate of up to 40 GHz/s
40 MHz Real-Time instantaneous bandwidth
High Time Resolution Spectrogram
Powerful, live persistence spectrum to find hidden signals
Full automatic Direction Finding
High Dynamic Range (HDR) Receiver
Specifications
Frequency range:9 kHz to 8 GHz
Operating temperature:-10° to +55°
Operating time on batteries:3 hours (nominal), battery pack is hot swappable
Dimensions:231 mm × 333 mm ×85 mm (9.09ʺ × 13.11ʺ × 3.35ʺ)
Weight (basic unit including battery) 3,8 kg
Sweep Rate:40 GHz/s (RBW ≥ 100 kHz)
The SignalShark from Narda Safety Test Solutions is a Real Time Handheld Spectrum Analyzer that operates from 9 kHz to 8 GHz. It can be used for a number of use cases, weather making a wideband measurement of an entire frequency range, or detecting hidden signals, or reliably capturing very short impulses, or localizing interference signals.
This real time analyzer was developed in conjunction with practical market analysis and targeted user surveys. Its ability to make powerful real time measurements with a real time bandwidth of 40 MHz in a handheld design will help accelerate the development of mobile technologies within the industry. It will also assist mobile service providers and authorities to ensure interference free networks and support regulators in providing protection from illegal transmitters and hidden signals.
The modern user interface of the SignalShark combined with a 10.4 inch touch screen makes it easy to carry out a large number of measurement and analysis functions. It can be adapted in advance to the measurement tasks and users needs, facilitating clear, effective and reliable measurements for both beginners and experts.
The two Li-ion batteries can be hot swapped during operation, making it possible to operate the device for long periods in mobile applications. The robust design conforms to MIL standards, enabling the SignalShark to make reliable measurements even under harsh environmental conditions, delivering precise results.
There will be a comprehensive range of accessories for the SignalShark, including manual DF antennas, an adapter for third-party antennas, fully automatic direction finding antennas, a fixing kit for vehicle mounting of DF antennas, and software for configuration and remote control by computer.
Please call us for more information. 
More details about the products, how you use your technical knowledge and guidance to help you consult with appropriate experts PROTEL.