Project Description
IPTV Web-TV Headend with Transcoder – 4 Satellite Transponder / 8 Channel
DVEO Gearbox - DVB-S/S2 4Tuners / IPTV 8 Channel with Transcoder
DVB-S-S2 Content in with 8 Transcoded SD IP Channels Out (with 4 core CPU)
Real Time, 2 RU, Quick Starting, Embedded Linux® Based, Remotely Manageable, Integrated Multichannel Satellite Capture and Transcoding System with H.264/AVC or Optional H.265 Transcoder and Live Streamer with Four DVB-S/S2 Inputs and/or IP Input and Concurrent Multi Stream, Multi Resolution, Multiprotocol IP Output.
Encodes DVB-S and/or DVB-S2 Video and Audio into an H.264 Compressed IP Transport Stream with Various "Wrappers".
Audio Support for AAC, Ogg Vorbis, MPEG-1 Layer II, Optional MP3, and/or Optional "SurCode for Dolby Digital" AC-3.
Encodes at .1 to 15 Mbps.
Ideal Satellite to IP Gateway for Streaming Video to Remote Sites, Content Delivery Networks (CDNs), or IPTV Compatible Appliances or Players.
Supports Stream Scheduling and Archiving Option.
This Unit Supports 4 Transponders.
With Optional Atlas™ Add-on, Supports 1,000 RTMP, DASH, and/or HLS Users Natively.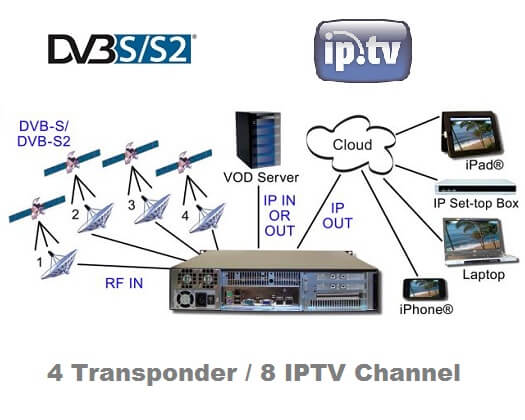 IN: DVB-S or DVB-S2 — one to 4 tuners IP
OUT: 8 channels of transcoded SD streams
Standard Features
Supports both HD and SD H.264/MPEG-4 AVC encoding with "virtual" stream replication
Inputs: Four DVB-S or DVB-S2 inputs (option for decryption available), one GigE IP input
Outputs: Multiple simultaneous IP streams through GigE port (RJ45) via V-DNA™
Schedulable input
IP output protocols: UDP, RTP, HTTP, HTTP Live (HLS), HTTP Smooth, RTMP (Open Flash)
Support for adaptive bitrate streaming protocols such as HTTP Live Streaming
Supports logo insertion and text overlay on outputs
Able to upconvert incoming SD streams to HD, and scale down
Tested with leading CDNs (Verizon®, Akamai®, Octoshape™, Ustream®, etc.)
Advanced PID filtering allows easy service selection
Supports H.264 High Profile @ Level 4.0 ([email protected])
Supports 1080i, 1080p, 720p, 480i, 480p, CIF, QCIF, qHD, H.264up and many others, and custom resolutions
Creates simultaneous High, Medium, and Low bitrate streams
Optional built-in server supports 1,000+ simultaneous HLS, DASH, and/or RTMP users
Audio Output: AAC, Ogg Vorbis, MPEG-1 Layer II, optional MP3, and/or optional "SurCode for Dolby Digital" AC-3
Support for Variable Bit Rate (VBR) encoding maximizes adaptive streaming video quality and bandwidth efficiency
Tested to work with Atlas™, Wowza®, and Adobe® Flash® media servers
Tested compatible with major brands of IP devices including Amino™, Roku®, Dune HD™, Telergy, Android™, and Apple iPad® and iPhone®
Tested compatible with major brands of professional H.265, H.264 and MPEG-2 decoders and video servers
Remote GUI includes some scheduling
SNMP, REST, SOAP support for remote management and monitoring
Relies on Intel® Xeon® Multicore 4 Core processor
Applications
Streaming satellite TV from remote sites to HTTP, HLS, RTMP, etc. compatible appliances
Live streaming at Religious Services, Festivals, Fairs, Lectures, Weddings, Funerals, etc.
Occasional Live streaming by Broadcasters
Backhaul/Monitoring for Broadcasters
Digital News Gathering
Centralcast