Project Description
IPTV Web-TV Headend with Transcoder – 16 Satellite Transponder / 80 Channel
DVEO Gearbox II - DVB-S/S2 16 Tuners / IPTV 80 Channel with Transcoder
Modular Satellite Headend with 64 Transcoded SD IP Channels Out via Dual 14 Core Intel® Xeon® CPUs. Optional built-in mini ATLAS server supports 1,000+ simultaneous HLS, DASH, and/or RTMP users.
We suggest CDN to service many users.
Broadcast Quality, Up to 16 RF Channels, Real Time, Standard or High Definition (up to 1080p), Integrated DVB-S and DVB-S2 RF Receiver, and MPEG-2 to H.264 or Optional H.265 Transcoder, Scaler, and Streamer.
Based on Embedded Linux®, it Boots Quickly from Flash Drive and Remembers all Settings. Easy to Use GUI Allows Full Config of Each Stream and via SNMP can Report its Status to Remote Network Operations.
Will Transcode and Process Multiple Streams up to CPU Limitations. Typical Dedicated Transcodes are up to 80 SD Streams, or 20 1080i/p Streams, or 30 720p60 Streams.
Supports RTMP, HTTP, Smooth, and Live Streaming and Works with Atlas™, Wowza®, and Adobe® Flash® Servers. With Optional Atlas™ Add-on, Supports 1,000 RTMP, DASH, and/or HLS Users Natively.
There is a Version with IP In and Out.
Audio Support is AAC, Ogg Vorbis, MPEG-1 Layer II, Optional MP3, and/or Optional "SurCode for Dolby Digital" AC-3. Telephone Companies Worldwide will use this to Receive Satellite-Based MPEG-2 Compressed Digital Signals and Transcode them to H.264 Streams.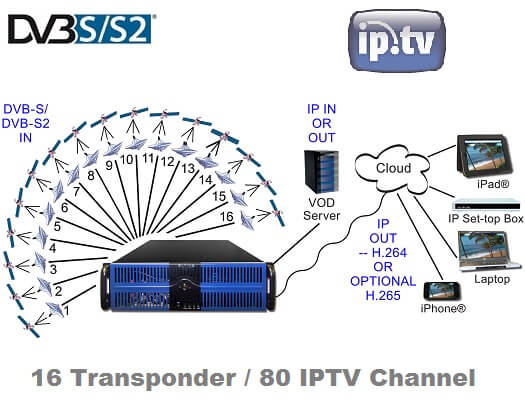 IN:  DVB-S or DVB-S2 — One to 16 Tuners, (ASI optional)
IP — One GigE IP Input
OUT:  80 Channels of Transcoded SD Streams
Standard Features
Supports HTTP adaptive Smooth and Live streaming protocol for output to mobile devices
Input: DVB-S or DVB-S2 – Simultaneously receives transport streams from up to sixteen satellite transponders. Option for decryption available.
IP input (H.264, MPEG-2, or VC-1): UDP, RTP, RTSP, HTTP, HTTP Live, RTMP (pushed from Flash server)
IP output protocols: UDP, RTP, RTSP, RTMP (Open Flash), HTTP, with DLNA support
Supports logo insertion and text overlay on outputs
Supports rotating key servers like Verimatrix® VCAS™
Performs AES-128 encryption
Optional built-in server supports 1,000+ simultaneous HLS, DASH, and/or RTMP users
Supports NTSC or PAL
Transcoding bit rates: .1 to 15 Mbps
Creates simultaneous High, Medium, and Low bitrate streams
Resolutions: qHD, H.264up, SQVGA, QCIF, QVGA, CIF, or any custom size up to 1080p
Simultaneous demodulation, transcoding, and encapsulation
Transcodes up to 30 720p60 HD streams, or 20 1080i/p HD streams, or 80 SD streams from MPEG-2 to H.264, or vice-versa
Optional H.265 transcodes are up to 8720p HD streams, or 4 1080i/p HD streams, or 32 SD streams from MPEG-2 or H.264 to H.265, or vice-versa
SNMP, REST, SOAP support for remote management and monitoring
Support for Variable Bit Rate (VBR) encoding maximizes adaptive streaming video quality and bandwidth efficiency
Tested to work with Atlas™, Wowza®, and Adobe® Flash® media servers
Tested to work with Akamai, Tulix, Edgecast, etc. CDN's
Tested compatible with major brands of IP devices including Amino™, Roku®, Dune HD™, Telergy, Android™, and Apple iPad® and iPhone®
Tested compatible with major brands of professional H.265, H.264 and MPEG-2 decoders and video servers
Audio support: AAC, Embedded pass-through, Ogg Vorbis, MPEG-1 Layer II, optional MP3, and/or optional "SurCode for Dolby Digital" AC-3
Settings are remembered when power cycled
Options for DVB-T2, HD-SDI, ASI, 8VSB, and QAM inputs
Remote GUI includes some scheduling
Redundant Power Supply
OPTION: ANYTIME VOD for GoBack TV
Applications
IPTV head end to feed CDN's
Telco TV ingest
Hotels, Cruise Lines, Universities, Resorts feeds
Streaming to designated VideoLAN VLC or similar clients, or to Roku®, Amino™, or other set-top boxes