IPTV Transcoder
IP in, IP out, HD & SD transcoder units.
Professional multichannel transcoders converting providers H.264, MPEG2 and HEVC (H.265) contents to each other, changing the bitrates to reduce IPTV stream bandwidth, modifying transport level protocols. DVEO products made in USA, Blankom products made in Germany.
With after sales support from Turkey's IPTV specialist PROTEL, with worlwide valid manufacturer warranties.
IPTV Transcoder IP/IP
16xSD
DVEO BRUTUS I  IP/IP
Real Time, Multi Definition, Multichannel IP Transcoder
4 Core Intel® Xeon® CPU with embedded Linux OS
Transcoding capacity:
(In: MPEG2/H264, Out: H264)
16x SD ⇒ SD 576i/25 or
8x HD ⇒ SD 576i/25
HEVC/H265 optional
IPTV Transcoder IP/IP
32xSD
DVEO BRUTUS II IP/IP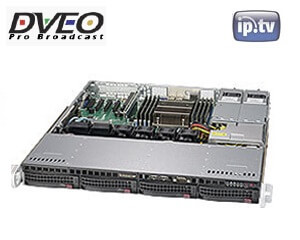 Real Time, Multi Definition, Multichannel IP Transcoder
14 Core Intel® Xeon® CPU with embedded Linux OS
Transcoding capacity:
(In: MPEG2/H264, Out: H264)
32x SD ⇒ SD 576i/25 or
16x HD ⇒ SD 576i/25
HEVC/H265 optional
IPTV Transcoder IP/IP
64xSD
DVEO BRUTUS III  IP/IP
Real Time, Multi Definition, Multichannel IP Transcoder
2 x 14 Core Intel® Xeon® CPU with embedded Linux OS
Transcoding capacity:
(In: MPEG2/H264, Out: H264)
64x SD ⇒ SD 576i/25 or
32x HD ⇒ SD 576i/25
HEVC/H265 optional
IPTV Transcoder IP/IP
98xSD
DVEO BRUTUS IV  IP/IP
Real Time, Multi Definition, Multichannel IP Transcoder
4 x 12 Core Intel® Xeon® CPU with embedded Linux OS
Transcoding capacity:
(In: MPEG2/H264, Out: H264)
98x SD ⇒ SD 576i/25 or
49x HD ⇒ SD 576i/25
HEVC/H265 optional
IPTV Transcoder IP/IP
128xSD
DVEO BRUTUS V  IP/IP
Real Time, Multi Definition, Multichannel IP Transcoder
4 x 14 Core Intel® Xeon® CPU with embedded Linux OS
Transcoding capacity:
(In: MPEG2/H264, Out: H264)
128x SD ⇒ SD 576i/25 or
64x HD ⇒ SD 576i/25
HEVC/H265 optional